Hyperolius semidiscus (Hewitt, 1927) - Yellow-Striped Reed Frog, Hewitt's Reed Frog
by Kurt Kunze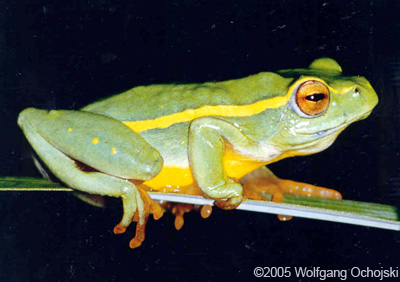 Yellow-Striped Reed Frog,
Hyperolius semidiscus
(Photo: ©2005 Wolfgang Ochojski)
Family:



Hyperoliidae (Reed & African Treefrogs)
Subfamily:


Hyperoliinae (Reed Frogs)
Origin:


East coast of South Africa, Swaziland
Adult Snout-to-Vent Length:


35 mm (1.4 inches)
IUCN (Red List) Status:


Least Concern (LC)
Similar Species:


Hyperolius cinnamomeoventris, Cinnamon-bellied Reed Frog
Hyperolius nasutus, Long Reed Frog
Hyperolius spinigularis, Spiny-throated Reed Frog

Meet the Frog Part 8: the Yellow-Striped Reed Frog, Hyperolius semidiscus
Reed frogs are not popular zoo exhibit animals and are most commonly encountered outside of their native habitat as animals in the pet trade. The problem with most reed frogs within the pet trade is that they are usually sold under the heading "assorted reed frogs", leaving the prospective reed frog keeper guessing as to what kind of reed frog they have. This article will, hopefully, shed some light on at least one species' identity.
Hyperolius semidiscus
is a green frog that grows to a length of 35 mm (1.4 inches). There are two yellow dorso-lateral stripes on the frog, one on each side, starting on the snout and running through the eye, then down the back. This stripe often has has a darkened edge to it. In some members of this species the stripe is absent. "Semidiscus", the species name, refers to its incomplete throat disc.
The Yellow-Striped Reed Frog is typical of its family and genus in that it can be found along the banks of rivers and other standing bodies of water of lowland savannas. It lives in reeds and other dense vegetation at the water's edge. It is at the bases of these plants that this species lays and attaches its eggs. Eggs can be laid up to 50 mm (2 inches) below the water's surface, with a clutch size of 30.
Under the IUCN's Red List, this species' status is listed as least concern (LC), meaning they are common, but their numbers are being drastically reduced by subsistence farming where cows are grazing close to streams, thereby spoiling the water and preventing eggs from developing into tadpoles (Wolfgang Ochojski, 2009).
In captivity, it can be kept like any other tree frog. A semi-aquatic set-up, with branches and plants on which to climb, would be ideal for this species.
References
1. Channing, Alan & Howell, Kim M.
Amphibians of East Africa
2006
Cornell University Press
If you have more resource links please submit them - please note that we only link family friendly sites.